Air Freight Management
Mac-Nels offers you reliable air freight services for all your high priority consignments - completely according to your personal needs. We provide you with comprehensive service for airfreight solutions......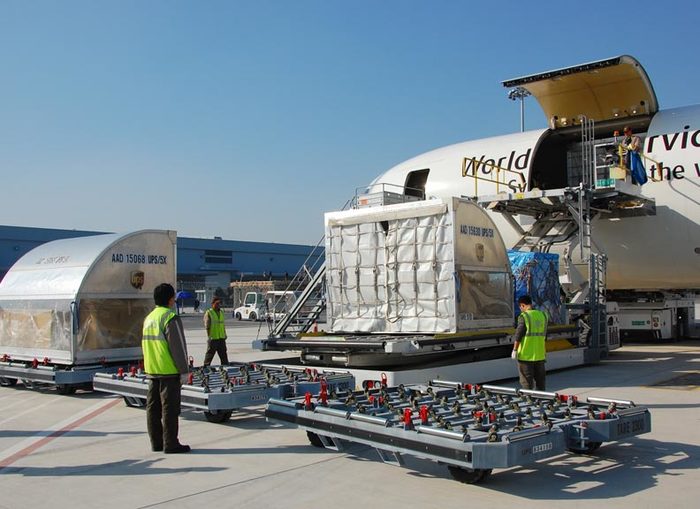 Air Freight Management
Mac-Nels offers you reliable air freight services for all your high priority consignments - completely according to your personal needs. We provide you with comprehensive service for airfreight solutions.
Flexible and reliable air transportation, tailored to your needs around the globe. When your goods need fast connection and regular uplift!
Airport to airport service with distinguished partner airlines with the least transit time possible

Flexible in pricing

Time definite service from door to door

Worldwide Network

Vendor Co-ordination
Mac-Nels together with our worldwide network of Partners offer a complete range of air freight solutions for import and export cargo.
Mac-Nels skilled team members has got over 20 years practical experience with all types of cargo, both general and perishable. Be it direct flights, consolidations, door to door delivery, part or full charters; our policy is to provide the most cost-effective method to meet out client's requirements.
Mac-Nels have regular import air freight consolidations from Europe, Asia & the USA. Upon arrival in Bangladesh, our air freight team will attend to your shipment in a quick and efficient manner to ensure your shipment arrives on your doorstep…fast!
With our extensive overseas agency network, we have the capacity to handle all your airfreight requirements
3. Consolidation:
Our Consolidation Services for shipments are the cost effective way to transport low volume cargo. By grouping your shipment with others to fill a standard container, you avoid the cost of shipping an entire container on your own
The consolidated shipments receive the same benefits as full container load shipments with our world class logistics team, global network and local experts at every destination.

We consolidate the package of a single buyer from different suppliers in one single container and deliver it as full container load. This reduce the cost one single person have to pay for the freight forwarding.
4. Logistics Solution:
We have a wide range of solutions that can be tailored to your business' particular needs. Our aim is to optimise and improve your supply chain, helping you gain a competitive advantage.
5. Inland Transportation:
As your growth partner, Mac-Nels is committed to delivering effective security and support for your supply chain. We provide all road and multi-modal transportat operations & their associated logistics. As recognized experts in overland and waterway transportation methods, our solutions include Road, Rail, and barge transportation as well as customs clearance, on-site logistics, and workflow management.
We can easily manage your freight flows as we add proven information management expertise to continuously optimize your transport plans.
6. Supply Chain Management:
We link your origin supply chain with your destination markets' ever-changing logistics needs, drawing on our service portfolio, in-country professionals, global network, and technologies.
Mac-Nels management teams, along with state-of-the-art technologies, manage the entire solution through our Control-Tower contact structure.
Origin logistics facilities located in all key-sourcing regions provide specialized services ranging from purchase order management and consolidation, to sourcing support and assembly.
Our supply chain experts design, implement, and manage services in partnership with our customers. This model, and comprehensive approach, creates real value throughout the supply chain by reducing costs and improving efficiencies.
7. Customs Clearance:
We are well trained and dedicated to navigate the complicated customs process including DDP, DDU, DAP etc. With our understanding of the documentation and licensing requirements, legal and insurance concerns. Mac-Nels will get your shipments through customs clearances without any unnecessary hassle or expense.
With Mac-Nels, you can be sure that the process is fast, efficient and transparent.
It's time for you to stop worrying about importing and focus on selling as Mac-Nels takes the complexity out of the process and make any imports and customs brokerage super simple.
Providing you with complete logistics solutions for all kinds of imports to Bangladesh, Mac-Nels offers you a seamless and streamlined brokerage process. We'll handle your ship freight, pay duties, clear customs and deliver on time ensuring you a worry free custom brokerage process.
We are your brokerage expert and advisor who will assist you in identifying the best options and solutions for your business and your representative who will be always there during each step of the way acting and making the right decision on your behalf from clearing your goods to delivering to your final destination.
Whether your business is a first-time importer of a startup or a large volume importer in a big industry, we handle each with great care as all our clients are valuable to us.
Fast custom clearance

Handling duties and tariffs fees on your behalf

Streamline and on time brokerage process

Cost Effective & Hassle free imports
8. Warehousing Distribution:
In connection with the transportation of cargo, Mac-Nels offers a full range of customized distribution and materials management services including shipment in and out of warehouse, maintenance of warehousing customer inventory, individual order organizing for shipment, "Just In Time" delivery, and order packing and shipment. These "value added" services are the most important benefit we provide.
Understanding that Warehousing & Distribution is a vital part of any of our Customers' supply chain process at Mac-Nels we provide you access to a set of strategically located worldwide third party warehouse network for an efficient and smooth supply chain process.
Offering you a spectrum of flexible public warehousing and contract warehousing services to meet your exact needs, our warehousing and distribution service includes long term storage, comprehensive stock management/controlled stockroom services and smooth delivery.
At Mac-Nels, we ensure you the flexibility and diversity you require for your stocks regardless of the size and industry of your business.
As a company with a long history and have extensive range of experience in handling warehousing and distribution processes we know the best places to store your stock that generate real value for your business.
Contact us today to find out how we can help you in smoothening up your warehousing and distribution process.
Secure short-term and long-term storage

Stock management

Order picking and delivery
Associated services: customs formalities, picking, packing

Warehouses with direct access to dispatch platform

Complete and efficient data system
9. Projects Forwarding:
For goods that need special attention, we can assist from the initial project stages through to the delivery to the end-user.We offer air, sea and road services.
We handle any requirements from Small to large industrial projects. Proposing suitable handling solutions according to time, price and realibility
Documentation and procedures

Break bulk, heavy lift and out of gauge

Aircraft and ship chartering
Mac-Nels manages so many different modes of transportation around the world, our Project Cargo team has a wealth of local, practical expertise to call on. Working closely with your own people, they will build and manage your special project from first concept through to delivery. Whatever the size, weight or complexity of handling.
Multiple Modes of Transportation
Regardless of commodity size, weight, or configuration, we can propose the most suitable solution by combing multiple modes from end-to-end, complete with full visibility
Conventional vessel

Container break bulk loading, including oversized containers

Air freight

Air and marine Charter

Inland water transport by barge

Costal marine transportation

Land transportation of ultra-heavy cargo by multi axel modular trailer
Project Logistics Management
We take the lead for global logistics planning, using control tower methodology, with complete visibility
Full turnkey base factory relocation logistics

Project planning and project management

Overall logistics control, right down to mobilizing and monitoring on-site teams

Vendor management

Delivery and on-site erection

Complete with all the necessary supporting IT solutions